I have a little bit of an addiction, and it's an odd one.
Chicken salad.
I didn't grow up with chicken salad- the first time I remember even trying it was on an Arby's sandwich when I was in the Air Force stationed in Mississippi in my early 20's. It really was love at first bite :-)
It was many years before I tried to make chicken salad on my own, but now that I've started I just can't stop. I crave it! If there isn't a bowl in the fridge for me to dip into when I get the craving, it's time to make another batch!
It's become a bit of an obsession, really. It's great on sandwiches, of course, but it's also great on a bed of lettuce, or, ahem...straight out of the bowl.
:-) Lets just say that we go through a lot of forks in our house from my frequent stops for a bite as I pass the refrigerator.
I have four different chicken salad recipes on Allrecipes that I've created, and- if I do say so myself- they're all pretty delicious!
Clicking on any of the pictures will get you to the recipe!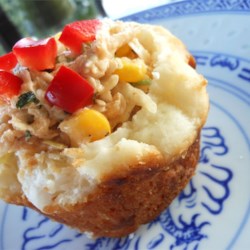 The first recipe I created is one that I've actually
talked about on here before
, my Asian Chicken Salad. I published it as "Asian Chicken Salad Cups," because I served it in hollowed out rolls. I still like to serve chicken or tuna salads this way. It's kind of fun and easy to pack in lunches. Feel free to serve it however you like, though, it going to be delicious regardless of presentation.
Next, I came up with
Chicken Salad with Tapenade
and Pecans. This was yummy! I actually made it the first time with leftovers from tapenade stuffed chicken breasts, but it's easy to make without that extra step. Tapenade is easy to make, or it can be purchased at the grocery store pre-made. I don't have a picture for this one, but it's definitely worth a try!
The next chicken salad recipe I had published was my Bangin' Buffalo Blue Cheese Chicken Salad. Oh yum. I love this stuff. One of the things I love about having recipes published is the fun moment when you see a review from someone- a stranger- who not only tried your recipe but loved it! Thankfully I've experienced that moment lots of times with lots of recipes, but it never stops being exciting. This recipe uses hot sauce, blue cheese, celery, and BACON. Love it!
Finally, my latest creation. I have literally made this 3 times in the last week. I'm smitten. I have about a half cup left in the fridge right now and I'm already worried that I don't have any chicken breast defrosted to make more :-)
I called this one, simply, My Favorite Chicken Salad. Because it is. It's crisp, clean, and yummy. The others are all wonderful variations, but this...this is classic and delicious. I love it. If I wasn't so stuffed at the moment I'd probably be eating some right now. lol I literally took a bowl of it with me in the cooler to the drive in last night!
Give these a try- I'd love to know what you think!